| | | |
| --- | --- | --- |
| | | |
Statement on the theft of 1.2 billion passwords and its effect on bank customers from Rose Oswald Poels, president/CEO of the Wisconsin Bankers Association
Consumers who may have used the same username and password for their online financial accounts as they used for other online websites should consider changing those credentials. Although initial reports say that financial institutions were not the target of the hackers who stole 1.2 billion passwords from over 420,000 websites, consumers tend to use the same username and passwords for multiple accounts. This potentially leaves them vulnerable to unauthorized access to their funds.
We also encourage consumers to be vigilant and review their accounts. Any unusual activity should be reported to their bank as soon as possible.
Consumers need to be aware of phishing scams that may try to take advantage of the security concerns that usually occur with news of data breaches, especially breaches of this scale. Do not respond to emails with links claiming that your account is in jeopardy. If you do have concerns with any service provider due to the possibility of a compromised account, WBA encourages you to contact those businesses directly to avoid becoming a victim of a scam.
WBA offers the following five tips for proactively protecting your online accounts:
Use a passphrase rather than a password. For example, you might create a passphrase such as "GroceryShoppingOnSaturdays".
Consider using the first line of a song or rhyme such as "If you give a moose a muffin," which becomes "IUgaM00saMuf1n."
Create strong passwords by substituting numbers for letters: for example, "1" for "L," "3" for "E," or "5" for "S." (0ct0b3r 13av35).
Password complexity and length are important. Most websites require at least 8 characters, but 12 is now recommended.
Avoid using the same credentials for multiple systems or websites. If you must, periodically change your password for financial sites or those that store your credit card information.
Senior Guide

The 2013 edition of DATCP's Senior Guide is now available as a free download!

The Senior Guide contains nearly 50 pages of information to help Wisconsin seniors through difficult consumer issues or to help them identify scams.
Click here to view or download and print it!
FDIC Consumer News

No Safer Place in the World for
your Money

How to Make Sure All Your Deposits Are Protected by FDIC Insurance
The FDIC website is the place to go for all kinds of information about the FDIC and other topics designed to be sure you are financially safe and savvy. Click here to check out the Consumer Protection page. You will find several menus of information that will help you keep informed on FDIC Insurance Coverage, Financial Education and Literacy, Identity Theft & Fraud --and more! There is even a "Consumer Tip of the Week."
We are always looking for tools that will help you maintain your personal information security. We like to search for and provide links on our Reaching Out page that will help you.
We have added 2 new important links: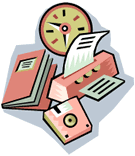 The first takes you to a page within the Social Security Administration website where you can learn about security issues regarding your Social Security Number and find out what to do if you think someone is using your number.
The second takes you to Annual Credit Report.Com, the only government authorized site where you can order FREE credit reports from all 3 Credit Reporting Agencies. (Any email solicitation, pop up ad, or phone call requesting personal information in order to provide a credit report may be a scam to steal your identity.) The site also has links to information about credit reports and c

redit scores. You may also order a credit report by calling 1-877-322-8228, or mailing a request to:
Annual Credit Report Request Service
P.O. Box 105281
Atlanta, GA 30348-5281
We recommend that you order these to make sure that no one has obtained credit in your name, verify that the information on the report is correct, and just generally be informed about your credit rating.
---
We've discovered a government website that is filled with information about Internet Fraud, Computer Security, and Identity Theft. The site is sponsored by: the Federal Trade Commission, Homeland Security, United States Postal Inspection Service, and the Department of Commerce.
Click here to access OnGuard Online - your safety net.
---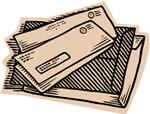 We have a tip for you that may help reduce your junk mail!
Credit Reporting Agencies must allow consumers to "opt out" of their programs to provide your personal information to third parties. In plain language, you can have your name removed from their marketing list.
To do so, go to www.optoutprescreen.com. More information is on the main page of the site, and there is a button to click to start the process to opt out.
---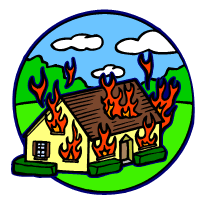 Are you ready for an emergency??
Would you be able to gather vital information about you, your family, and your finances in the face of an oncoming tornado? Would it be available to you after a house fire?
Here are some suggestions:
First, use the list below to help you determine what you need to protect .
Keep two sets of almost everything .
Keep copies in a portable file or fireproof box – something you have access to on a regular basis that won't be easily destroyed and/or that you can carry with you if you need to evacuate your home.
Keep originals in a very safe place . We recommend a safe deposit box - they're not expensive and our fire resistant vault is about as safe as you can get. (You can also keep valuables in your box, so you don't have to worry about a house break-in.)
Suggested items for safekeeping:
| | | |
| --- | --- | --- |
| Identification- Driver's License | Copy | Copy |
| Identification- Passport | Original | Copy |
| Certificates of birth, marriage, divorce | Original or Certified Copy | Certified Copy |
| Military discharge records | Original | Copy |
| Social Security Cards | Original | Copy |
| Bank account records- checking & savings | Copy | Copy |
| Investment records (CD's, annuities, IRA, pension funds, etc) | Original | Copy |
| Savings Bonds | Originals | Copies |
| List of Mortgage and Loan accounts- creditor, account number, contact information | Copy | Copy |
| List of Credit Card accounts, and customer service phone numbers | Copy | Copy |
| Wills, living wills, advance directives, and powers of attorney | Original | Copy |
| Titles and deeds | Originals | Copies |
| Paid Mortgage | Original | Copies |
| Immunization records | Originals | Copies |
| Recent Tax Return | Original | Copy |
| Insurance Policies (home, auto, life, medical) | Originals | Copies |
| Household inventory (videos are great) | Original | Copies |
| Contact information: financial institutions, employer, insurance agents, friends, family, primary medical services provider, dentist, ophthalmologist | Original | Copies |
| Back-up media of your home PC | Original | Copies |

Other valuable items you might want to protect with a safe deposit box:
Jewlery
Coins, stamps or other collectibles

Other items you might want in your fireproof or portable box
Safe deposit box key
Emergency Cash
If you have an emergency, you'll have everything you need to get back on the right track. You'll get a whole lot of peace of mind, for very little time invested.
---
Think of how many times a day you share your personal information. You may write a check at the local grocery store, apply for a credit card, make a call on your cell phone, charge tickets to a Milwaukee Bucks game, mail tax return or buy Midwest Express tickets over the Internet.
With each transaction, you share your personal information: your bank and credit card account numbers, your income, your social security number, your name, address and phone number.
In 1998, Congress passed a law making identity theft a federal crime. The U.S. Secret Service, FBI and U.S. Postal Inspection Service investigate violations of the Act. Persons accused of identity theft are prosecuted by the Department of Justice.
Wisconsin also has passed legislation making identity theft a felony, and criminals here have been convicted of the crime.
Consumer complaints about identity theft continue to grow. More than 40 percent of all complaints filed with the U.S. Federal Trade Commission last year were for identity theft.
Unless you live your life in a bubble, you can't prevent the stealing of your personal information, but you can minimize the risks of this crime happening to you by following these suggestions.
Never divulge information about your social security number, credit card number, account passwords and other personal information unless you initiate contact with a person or company you know and trust.
Don't carry around more checks, credit cards and other bank items than you really need. Don't carry your social security number in your wallet, and be sure to pick passwords and PINs (Personal Identification Numbers) that will be tough for someone to figure out. Don't write your social security number on your check.
Protect your incoming and outgoing mail, especially envelopes that may contain checks, credit card applications or other information valuable to a fraud artist. Deposit outgoing mail, especially something containing personal financial information in the official Post Office collection boxes, hand it to the mail carrier, or take it to the local post office instead of leaving it in your home mailbox.
Before discarding credit card applications, cancelled checks, bank statements or other information useful to an identity thief, tear them up as best you can, preferably by using a paper shredder.
Safely store extra checks, credit cards and documents that list your social security number.
Contact your financial institution immediately if you lose your checkbook or bank credit card, if there is a discrepancy in your records, or if you notice something suspicious such as a missing payment or unauthorized withdrawals.
If your credit card bill doesn't arrive on time, contact your credit card company. This could be a sign that someone has stolen your account information, changed your address and is making large charges in your name from another location.
Once a year check your credit record with the three major credit bureaus. To order your report, call the following toll-free numbers:


Equifax: 800-685-1111
Experian: 888-397-3742
Trans Union: 800-888-4213
Contact the fraud departments of each of the three major credit bureaus and request a "fraud alert" be placed on your file and no new credit be granted without your approval.
Close any accounts that have been fraudulently accessed or opened.
File a local police report and get a copy of the report to your bank, credit card company or others that may need proof of the crime.
The Federal Trade Commission (FTC) is the federal clearinghouse for complaints by victims of identity theft. Although the FTC does not have the authority to bring criminal cases, it can assist victims by providing information to help resolve problems that can result from identity theft. Should you find yourself a victim of identity theft, you can file a complaint with the FTC by calling toll-free 1-877-ID-THEFT (438-4338).
Most of us assume that thieves are only interested in the cash in our wallet or purse, when in many cases, they are more interested in access to sensitive information that can be used to steal our identity. Use caution and don't be the next victim of identity theft or other financial fraud.
---
The Internet has become a popular method for both conducting business and managing finances through online banking relationships. While most financial institutions and some individuals have taken steps to protect their computers, many firewall and anti-virus software packages do not protect computers from one of the latest threats, "spyware" – a form of software that collects personal and confidential information about a person or organization without their proper knowledge or informed consent, and reports it to a third party.
Spyware is usually installed without a user's knowledge or permission. However, users may intentionally install spyware without understanding the full ramifications of their actions. A user may be required to accept an End User Licensing Agreement (EULA), which often does not clearly inform the user about the extent or manner in which information is collected. In such cases, the software is installed without the user's "informed consent."
Spyware can be installed through the following methods:
Downloaded with other Internet downloads in a practice called "bundling." In many cases, all the licensing agreements may be included in one pop-up window that, unless read carefully, may leave the user unaware of "bundled" spyware.
Directly downloaded by users who were persuaded that the technology offers a benefit. Some spyware claims to offer increased productivity, virus scanning capabilities or other benefits.
Installed through an Internet browsing technique called "drive-by downloads." In this technique, spyware is installed when a user simply visits a Web site. The user may be prompted to accept the download believing it is necessary in order to view the Web page. Another method is to prompt the user to install the program through pop-up windows that remain open, or download the software regardless of the action taken by the user.
Automatically downloaded when users open or view unsolicited e-mail messages.

Behaviors Associated With Spyware
Spyware can be difficult to detect and remove because it:
Does not always appear as a running program in the Window's Task Manager; therefore, the user may be unaware that his or her computer is infected.
May not include a removal option in the Windows "Add/Remove Programs" function. When such an option is present, the removal process may not eliminate all components, or it may redirect the user to an Internet site to complete the removal. This often results in new or additional infection rather than removal. In addition, some spyware includes a feature to reinstall itself when any portion is deleted.
May cause a further infestation by installing other spyware programs onto users' computers.
Installing and periodically updating anti-spyware, virus protection and firewall software.
Adjusting browser settings to prompt the user whenever a Web site tries to install a new program or Active-X control. (An Active X control is a set of instructions that will automatically run on a computer when downloaded by the browser.)
Carefully reading all End User Licensing Agreements and avoiding downloading software when licensing agreements are difficult to understand.
Maintaining patches to operating systems and browsers.
Not opening e-mail from untrustworthy sources.
---
E-mail and Internet-related fraudulent schemes, such as "phishing" (pronounced "fishing"), are being perpetrated with increasing frequency, creativity and intensity. Phishing involves the use of seemingly legitimate e-mail messages and internet web sites to deceive consumers into disclosing sensitive information, such as bank account information, social security numbers, credit card numbers, passwords, and personal identification numbers (PINs). The perpetrator of the fraudulent e-mail message may use various means to convince the recipient that the message is legitimate and from a trusted source with which the recipient has an established business relationship, such as a bank. Techniques such as a false "from" address or the use of seemingly legitimate bank logos, web links and graphics may be used to mislead e-mail recipients.
In most phishing schemes, the fraudulent e-mail will request that recipients "update" or "validate" their financial or personal information in order to maintain their accounts, and direct them to a fraudulent web site that may look very similar to the web site of the legitimate business. These web sites may include copied or "spoofed" pages from legitimate web sites to further trick consumers into thinking they are responding to a bona fide request. Some consumers will mistakenly submit financial and personal information to the perpetrator who will use it to gain access to financial records or accounts, commit identity theft or engage in other illegal acts.

To avoid getting caught by one of these scams, the Federal Trade Commission, the nation's consumer protection agency, offers this guidance:
If you get an email that warns you, with little or no notice, that an account of yours will be shut down unless you reconfirm billing information, do not reply or click on the link in the email. Instead, contact the company cited in the email using the telephone number or web site address you know to be genuine.
Avoid emailing personal and financial information. Before submitting financial information through a web site, look for the "lock" icon on the browser's status bar. It signals that you information is secure during transmission.
Review credit card and bank account statements as soon as you receive them to determine whether there are any unauthorized charges. If your statement is late by more than a couple of days, call your credit card company or bank to verify your billing address and account balances.
Report suspicious activity to the FTC. Send the actual spam to uce@ftc.gov. If you believe you've been scammed, file your complaint at www.ftc.gov, and then visit the FTC's Identity Theft Web site to learn how to minimize your risk of damage from identity theft.
Questions?
Contact us for more information. Phone: 715-824-3325
At IBA we believe that you should never use email for any confidential or sensitive information. However, we welcome your telephone calls any time and you can safely use the "Bank Mail" feature when you're using our on-line banking web site. Click here to log on.

There is great information on the FDIC (Federal Deposit Insurance Corporation) website you should check out - especially you would like to save money for a house, retirement or even just for a rainy day.
Here's FDIC description of the service:
"Helping Seniors Remain Fiscally Fit: How-To Guide to Money Management for Seniors and Families Available from the FDIC"

"With the average American living longer and spending more years (and more money) in retirement than ever before, senior citizens need to find ways to stretch and preserve their savings. The latest issue of FDIC Consumer News, published by the Federal Deposit Insurance Corporation, is a special edition devoted to helping seniors and their families make smart decisions about their retirement funds. The fall 2005 issue, entitled "Fiscal Fitness for Older Americans: Stretching Your Savings and Shaping Up Your Financial Strategies," has been posted to the FDIC Web site at: www.fdic.gov/consumers/consumer/news/cnfall05

"The special edition includes practical tips and information on:
Sources of funds during retirement and potential pitfalls to avoid;
Protecting against financial frauds that target the elderly;
Simplifying and organizing finances;
What to consider before giving others access to bank accounts and safe deposit boxes; and
Things seniors (and everyone else) should know about FDIC insurance.
"To help make the information in this special edition widely available to the public, the FDIC is providing single copies free of charge through the Federal Citizen Information Center and is encouraging financial institutions, retirement communities, government agencies, consumer groups, the media and others to reprint the new guide. See the Web site above for more details.
"The goal of FDIC Consumer News is to deliver timely, reliable and innovative tips and information on financial matters, free of charge. Current and past issues are posted on our Web site at: www.fdic.gov/consumers/consumer/news/index.html."
Like vacationers packing for a cruise or workers buying a wardrobe for a new job, students beginning their freshman year at college are rightly excited about the journey they are about to begin. In addition to planning their technology needs and dorm room furnishings, new students might consider a variety of financial topics they will possibly face for the first time. During their early college years, students can benefit from setting aside even an hour or two to plan their finances, including these topics:
Student loans: Students who rely on loans to help pay for their college expenses will want to read the fine print and understand when funds are available and all repayment requirements. They will want to balance the amount they accept in loans vs. their future career choice.
Part-time employment: College students who work 10 or 15 hours per week often learn to make effective use of their time; however, those who work 20 or more hours sometimes find it difficult to keep up in their courses.
Spending plans: College can be one of the most rewarding periods of a lifetime, filled with learning, new friends, and dreams to explore. A budget should allow a cushion to participate in new activities.
Scholarships and grants: Once a student has settled on a major, there may be scholarships available within their program. This is a question to ask an academic advisor. Even a small grant can enable a student to commit more hours to study, work fewer hours, or lower the amount of student loans.
Credit cards: College can be a good time to create a sterling record of wise credit card use, though students will want to carefully monitor their purchases, realizing that credit card debt can sneak up on any consumer. This is also a good time to learn about credit reports and begin a habit of checking them several times each year.
Housing/rental leases: When students sign any rental agreement, this is another time to carefully read the fine print. Will they be liable for damage caused by a guest? Are overnight guests permitted? If roommates are involved, all should agree upfront about such issues as guests, cleaning standards, and who is responsible for cleaning, food shopping, meal preparation, and other needs.
Identify theft: Routinely checking credit reports and frequently reviewing check and debit card usage online can help catch unauthorized payments. Remember: the best way to prevent theft is to keep close watch of wallets, cell phones, receipts, laptops and all other items containing personal financial data.
Careful planning during the first year of college can prevent personal financial crises and set the stage for a lifetime of good financial habits.
One useful financial aid resource is the Wisconsin Higher Education Aids Board (HEAB): www.heab.state.wi.us.
By Kurt Bauer
President/CEO, Wisconsin Bankers Association

Nearly 25 percent of consumers recently surveyed stated that their resolution for 2006 is to save money. The Wisconsin Bankers Association offers the following suggestions for getting financially fit in 2006:
Review your credit report. It's free. Annually, every citizen can access one copy of their credit report at each of the three national credit reporting agencies at no cost. Visit www.annualcreditreport.com or call 877/322-8228 to do so. Start off the New Year by reviewing your credit history for mistakes or signs of identity theft. This should be done every year.

Track expenses, eliminate wasteful spending . Make this the year you live below your means, not above. The weekly trip to the grocery store can be a good first step to eliminating excessive spending. Start by buying some generic items instead of name brands, use coupons and cut back on expensive junk food. Help grow your wallet and shrink your waistline.

Understand the difference between needs and wants. Be honest with yourself. Do you really need that new TV or new pair of shoes?

Set a realistic budget and goals. Keep monthly records of your spending and living expenses so you'll spot places where you can save.

Decide what you want to save for and do it. Maybe it's a home, retirement or your child's education. Write down your goals and create a plan to achieve them.

Save for yourself. If you don't currently save, start small by opening a savings account and saving $25 a month. Deposit this money before you pay your bills. Another idea is to save your spare change and then every six months, take your change to the bank and deposit it in your savings account. Those pennies, nickels and dimes add up fast.

Get organized and pay your bills on time. Keep ATM receipts, bills, and tax records organized in labeled files. This will help you stay on track with your budget and make it easier when it's time to pay bills. It's important to maintain a good credit rating by paying your bills on or before the due date.

Get out of debt. Pay off credit cards. Start with the ones with the highest rates first.

Protect yourself. Don't be a victim of fraud. Guard your credit card, PINs and account numbers. Buy a shredder so you can properly dispose of statements, receipts and bills. Remember to never give out your personal financial information over the phone or the computer unless you were the one to make the first contact. Banks will never ask you to verify your personal information in an e-mail.

Review your bills and balance your checkbook each month. This helps keep track of your spending and alerts you to any fraud or mistakes in your account.
For more information, contact Cheryl McCollum at the Wisconsin Bankers Association at 608/441-1216.