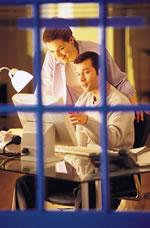 Switch your accounts to the International Bank of Amherst
If you're interested in moving your accounts to IBA, but groan at the thought of the hassle to get it done, we've got a solution for you! We've developed a checklist that will guide you through switching your current account to an account at IBA.
We will make it easy for you! Come to our office - we will need your Social Security Number and your government issued identification (your driver's license, for example). Bring your most recent bank statements so we can help you make sure the change is a smooth one.
Sign up for access to your accounts via the internet. Your account information will be available to you 24 hours a day, 7 days a week. You will be able to view account activity, print copies of your bank statement, make one-time transfers between accounts, and set up regularly scheduled transfers.
Authorize International Bank of Amherst as your new bank for direct deposits and automatic payments. We have a Direct Deposit/Automatic Payment Switch Form that you can use to notify the senders of those transactions of your decision to change your account. If you're not sure which of your transactions apply, we can help if you bring us your statement.
Stop using your old checking account, but keep it open until all checks have cleared and your direct deposits and automatic payments have been changed to post at IBA. Destroy your old unused checks and deposit tickets, ATM or Debit Cards. Then balance your old account. Complete the Reconciliation Form and be sure to keep it for your records.
Write a check to close the account. Notify your bank that the account should be closed. We have a Account Closing Form that you can complete and send to them. If you prefer, they will send you a check, you don't have to write one.

All of the forms are in Adobe Acrobat® (PDF) format and require Acrobat Reader. If you do not have Acrobat Reader installed on your computer, click on this icon for a free download.